Ready to learn more about how you can automate the maintenance of your DDI environment and get alerts about hidden issues?
Today's challenge: Hidden network disruptions
Growing IT infrastructure complexity has made network maintenance more difficult. The rise in the number of tools and the adoption of security and cloud technology has exacerbated this issue, reducing administrators' ability to make sense of the data and uncover hidden issues. Left unaddressed, those issues can slow your network down or even bring it to a grinding halt.
Trying to keep up with the health of your network can include these common challenges:
Frequent outages without notification from your monitoring tool
Monitoring tools are reactive, only notifying admins after the occurrence of the issue
Issue notifications do not provide actionable steps
Inability to fix issues before they impact service delivery
Maintenance tasks are done manually, which is time-consuming and leads to errors
A lack of deep knowledge and expertise
What is BlueCat Infrastructure Assurance?
BlueCat Infrastructure Assurance (BCIA) is a proactive monitoring and automation solution. Think of it as a virtual DDI expert, on duty 24/7.
Infrastructure Assurance provides deep visibility into BlueCat Integrity enterprise environments, including its key BlueCat Address Manager and BlueCat DNS/DHCP Server (BDDS) components. It proactively interrogates your systems to ensure they are healthy. Should it find an issue, the platform flags it, generates an alert, and provides a list of recommended remediation steps that admins can take.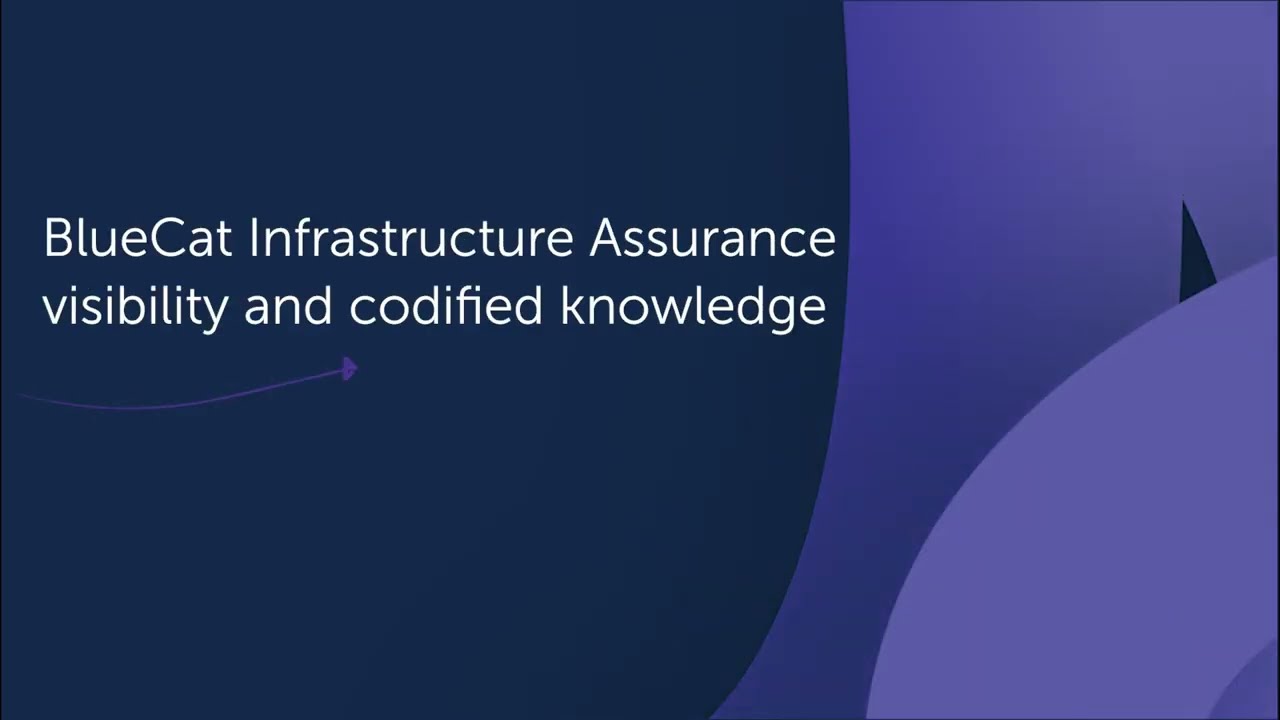 How does BlueCat Infrastructure Assurance work?
BlueCat Infrastructure Assurance (BCIA) uses SSH and SNMP protocols to connect and run collection scripts on BlueCat Address Manager and BDDSes using CLI commands or SNMP MIB files. These scripts run continuously, enabling ongoing analysis of the health and configuration of devices.
Various sizes of BlueCat Infrastructure Assurance are available for different deployment scenarios.
Device health monitoring and detection
BlueCat Infrastructure Assurance continuously analyzes metrics to track device health and posture and adherence to configuration standards and policies. It proactively notifies users before problems occur, avoiding outages.
Management tools to reduce risk
BlueCat Infrastructure Assurance offers a variety of tools for effective operational management that reduces the risk of unforeseen events and outages.
Support informed by user data
BlueCat Infrastructure Assurance's cloud-based analytics service contains production data collected from its users to provide proactive customer support. The data includes issues identified in user environments, scripts executed, and metrics collected.
Integration with APIs and applications
BlueCat Infrastructure Assurance improves efficiency for IT teams through the integration of email, syslog, APIs, and SNMP traps.
Prevent outages – Proactively get ahead of network downtime
Tap into a codified DDI knowledge base that informs root-cause analysis and provides step-by-step remediation help.
Reduce time-to-resolution – Go beyond standard monitoring and troubleshooting with automation
Quickly remediate DNS/DHCP configuration drift and errors by automating detection and root cause analysis.
Flexible configuration – Customize deployment and codify your knowledge base
Deploy on-premises or in the cloud and codify your network knowledge for tailored DDI auto-detection and recommended remediation.