Heading into the cloud?
See how your network can thrive in the complexity of the cloud.
Tame complexity without compromising security
Manage DNS forwarding rules governing hybrid cloud to deliver SaaS-based services fast, while monitoring IP addresses to protect the enterprise against cyberattacks.
Intelligent Forwarding
Optimize hybrid-cloud service delivery.
Threat detection and remediation
Reduce time to detect, investigate, and remediate cyberattacks.
Customized logging
Meet internal data security compliance requirements.
Hybrid cloud and Intelligent Forwarding
Provision multiple resolution paths across a hybrid cloud environment to simplify DNS operations and improve network performance.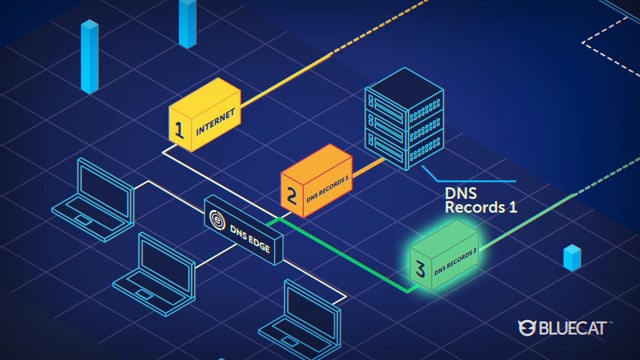 Optimize DNS resolution
Edge provides multiple DNS query resolution paths while simplifying the segmentation of DNS data.
Improved network performance
Reduce network congestion using Edge as both a caching and forwarding server.
Direct Internet Access
Use a cloud-managed solution to enable Direct Internet Access (DIA) for remote branch locations.
Secure the enterprise
BlueCat Edge's smart analytics and threat protection enables security teams to detect and stop data exfiltration like tunneling, beaconing to command-and-control servers, or evasive techniques like domain generation algorithms (DGAs).
Threat protection
Seamless integration of security intelligence, including BlueCat DoH block lists, CrowdStrike, and other third-party threat feeds.
Extend security investments
BlueCat DNS Edge supports integration with Cisco Umbrella to leverage policy enforcement and content filtering for external traffic.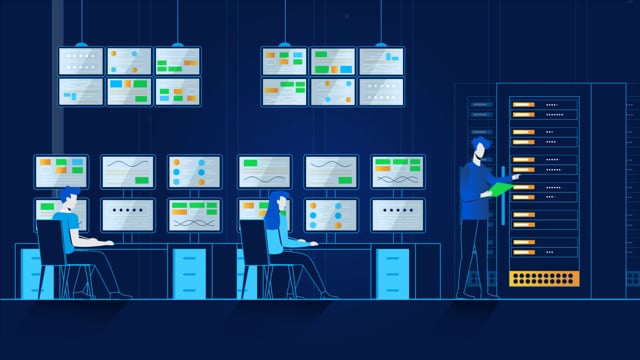 Reduce risk
Reduce breaches and outbreaks by securing local traffic going directly to the internet or SaaS apps.
Prevent downtime
Enable faster remediation with real-time analytics and forensics of DNS traffic.
Complete security
Detect and stop external threats (north-south), and lateral movement (east-west) of infected devices.
Branch DDI
Deploy secure and compliant DNS on existing branch network infrastructure to protect against business disruption.
Local survivability
Maintain internal resolution at the branch level when upstream DNS and DHCP are down.
Cost-effective
Right-size network infrastructure investments to maintain branch IT budgets.
Complete visibility
Monitor and inspect all queries made by branch locations.
Edge and Service Points
BlueCat Edge uses Service Points: a lightweight, cloud-managed software that sits at the network edge, enabling faster and more secure DNS resolution.
Deploy anywhere
Deploy service points on BDDS, in virtual environments, and in cloud (AWS, Azure, GCP) environments to handle any client load.
Increase visibility
Capture and log any internal and external queries from any client, branch, or user globally.
Complete control
Control all DNS resolution paths while detecting malicious behavior and restricting access to critical internal resources.
Control access
Apply policies to control access for every client, block threats, and protect sensitive data and critical systems. Control the DNS resolution path for network optimization.
DoH blockingRetain visibility into DNS queries by blocking lookups to known public DoH resolvers.
Threat protection
Enrich DNS data using out-of-the-box integrated threat intelligence from Crowdstrike to stop malware, DNS tunneling, and DGA threats that can exfiltrate data or take down the network.
Reporting and DNS insights
DNS Insights page displays a graphical analysis of all queries that have been received through the service points. Learn more
Namespaces and forwarders
Create an array of namespaces for complex networks. Learn more
Agentless deployment
Provide visibility, protection, and control to any DNS-leveraging device, without the need to deploy and manage agents on those devices.
Zero-touch deploymentDeploy unlimited numbers of virtual service points without making changes to your existing DNS infrastructure – at no extra cost.
Dynamic scaling
Meet any collection, storage, and processing requirement without interruption and allow for local resiliency.
Logging
Log every internal and external DNS query and response from every client type, providing investigative context — with no agent required. Learn more
Easy policy configuration
Allow admins to apply policies to block, redirect, or monitor DNS requests based on clients and resources being accessed. Learn more
Web Single Sign-On (SSO)
With SAML-based Web SSO in Address Manager, all user login credentials are authenticated by the identity provider (IdP). Learn more
Custom logging
Log DNS events from all your Service Points to any data lake for valuable insights into your network activity that fits with your workflows. View guide or Watch demo
Related products and services
All Adaptive DNS
Learn about the layers of Adaptive DNS.
BlueCat Gateway
Learn how to innovate faster and complete repetitive tasks at machine speed by treating infrastructure as code.
BlueCat Integrity
Reconcile multiple IP spaces on-premise or in the cloud, while delivering scalable DHCP management with DNS.
Technical content
It's time to get granular.
This page a little too light for you? Head to our technical content library for the hard facts. Data sheets. Product guides. Demos. Specs. Stats.
You name it, we've got it.