Find threats faster and gain full visibility into network traffic with Adaptive DNS security.
Few enterprises have the ability to systematically gather and analyze DNS data. At BlueCat, we bring it all together in one place.
That means you'll gain full visibility and control over your DNS data (internal and external) — so you can strengthen your security from the very core to the edge by applying security policies uniformly across the enterprise, without the need for on-device agents.
You'll also get the ability to integrate with popular security technologies and SIEMs like Cisco Umbrella and Splunk.
DNS Security
Your network and security teams need unprecedented visibility into your network to spot incoming threats.
That's why our DNS security sits at the edge of your network – the 'first hop' – without the need for an agent. So in order to even get close to your critical systems, malicious threats have to get through a self-sufficient, highly intelligent barrier first.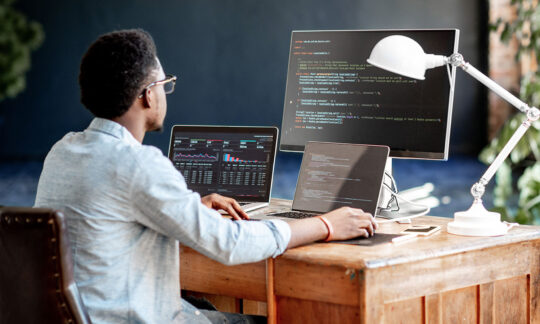 Spot more threats
Eliminate DNS as a threat vector by applying policies to DNS traffic, limiting access to sensitive data while locking down critical systems.
Identify and respond faster
Outwit cybercriminals with smart analytics. You'll be able to detect DNS tunneling, DNS poisoning, beaconing, and any other evasive techniques – while quickly remediating any breaches.
Simplify compliance
Easily configure, deploy and enforce DNS policies across your network to meet corporate compliance standards and security and regulatory requirements.
Threat Protection
Any network security system is only as good as the threat intelligence you feed into it. That's why we use cutting-edge threat data from industry leaders like CrowdStrike and Cisco, while also giving you the flexibility to insert threat feeds of your own creation.
Uncover hidden threats
Subscribe to our continuously updated security feed to spot and block threats as they emerge with the most active, comprehensive threat repository on the market.
Security expertise on tap
What you don't know can hurt you. Use BlueCat's Threat Protection to enrich your DNS data with insights from CrowdStrike's elite team of threat analysts and security researchers.
Eliminate security blindspots
Ensure your data correlates with other security data and additional analysis by integrating with popular security technologies and SIEMs, Cisco Umbrella, and Splunk, shortening the time it takes to identify and respond to threats.
Agentless deployment


Provide visibility, protection and control to any DNS-leveraging device, without the need to deploy and manage agents on those devices.

Zero-touch deployment


Deploy unlimited numbers of virtual service points without making changes to your existing DNS infrastructure – at no extra cost.

Customizable actions


Administrators can configure each security feed with individual actions (redirect, blacklist, do not respond, log, etc.).

Response policy zones


BlueCat Threat Protection lets you maintain a set of hosts and zones that can be intercepted and handled accordingly.
Localized lists


Augment and maintain your own local lists to blocklist additional sites and allowlist results.

Logging and visibility


Log matches to determine which devices have attempted to access known malicious content.

IPAM integration


Integration with BlueCat IPAM, DNS and DHCP solutions enables you to centrally manage and orchestrate Threat Protection through BlueCat Address Manager.

Reporting


Gain a complete view of response policy activity with respect to threat category, source of threat, and targets.
Core Network Services
Turn your DDI data into an engine for innovation and growth and reduce network admin costs by 80% with unified DDI (DNS, DHCP and IPAM).
Network Automation
Work fast—harnessing zero-touch automation for low network costs, rapid innovation and a seamless network experience.
Hybrid Cloud Management
Accelerate initiatives and make work seamless for both DevOps and NetOps, with total visibility and control across your hybrid-cloud estate.
Technical content
It's time to get granular.
This page a little too light for you? Head to our technical content library for the hard facts. Data sheets. Product guides. Demos. Specs. Stats.
You name it, we've got it.